"Counterpoints" from Madras Christian College Magazine, Vol. 35, No. 1, November 1965, pp. 18-19, Abraham Eraly; picture by J. Vasanthan.
. . . . . But already life here is becoming fertile and exciting. The Departments are buzzing with development and research projects. A good account of all this may be found in the Principal's Reports for 1964 and 1965 ; here we mention only some incidental data. In the Chemistry Department the new in-thing is heavy water (supplied by Trombay) which, we are told, if it is any heavier, would be radio-active. In this Department, another important activity is writing letters to the editor of The Hindu.
This particular itch has become rather endemic in the campus of late, and we understand that the enterprising Dr Siromoney, when he is not collecting butterflies, insects, fungi, stones, lice, flowers, used tennis balls, stale jokes, medicinal herbs, rain drops and tear drops; and when not watching birds, snails, comets, the night sky, the tip of his nose, queer fish, wind directions, earth-worms and tapeworms; and when not studying pure mathematics, applied mathematics, astrology, statistics, phrenology, astronomy, Western music, palmistry, machine translation, parapsychology, Eastern music, digestive system of the bed-bug, musical instruments of ancient India, megaliths, the Bible, paleoliths, Sangam literature, computers, soil types of Tambaram, ancient architecture and art, and social customs of the Lamas; and when not writing learned papers on all these to learned journals; and when not writing a Tamil-English Dictionary; and when not playing tennis, football, hockey, or just playing the fool; and when not searching the Vandalur hills for scorpions or making cross country trips to get lost to find out how to get lost; and when not gabbing in the staff-room or in the class-room; and when....Help ! Where are we? Well, when doing nothing in particular, and is not himself writing letters to the editor, Dr Siromoney collects the letters to the editor of The Hindu written by the members of our staff to publish an anthology under the title, Let Us Now Praise Ourselves.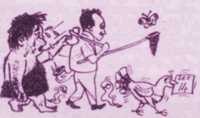 It is Dr Siromoney who brought to our attention two new discoveries in the campus-- a bird and a stone. The bird, the Forest Wagtail (Motacilla Indica, if you know what we mean), which has never been seen in Tambaram earlier than the afternoon of September 19th, is now, this year, believe it or not, found, hurrah, on the morning of 14th September! You may recognise this bird by its gait; it walks about a lot, we are told, and it walks with a slight forward swing of its head, stooping now and then to swing its tail and the whole hinder part of the body sideways. Watch out for this Wagtail, please, and if you ever spot it earlier than 14th September, don't forget to report it to Dr Siromoney . . . . .

In the fifties, Dr. Kibble used to invite students and members of the faculty interested in painting and sketching to his house every Saturday morning (they lived in the warden's house, Selaiyur hall, at that time). He did the self portrait then. During the year 1958-59, he attended night classes on painting in the Riverside Church, New York, and did the "Still Life" and "College Front". While attending a conference in Bangalore, painted the Vidhana Soudha, sitting in the Cubbons Park. While visiting the Lockwoods in 1971 for their youngest daughter Karen's christening, he did the Jaffna House where they lived and from there "looking down the plains" to Madurai which you could see on a clear day.
In the fifties and sixties, while traveling in India or abroad, he always carried his sketch book. The sketches are taken from this pocket-book. During invigilation, his pastime was to sketch the students writing the examinations. I recollect a very good one of Jeyavanthy (sister of Dr. Devanesen), who did Literature Honours during the second half of the fifties. Another remarkable one was that of Dr. J.P. Joshua (Former head of the department of Zoology), sitting with the luggage at a railway station when both went together for a bird-ringing camp with Dr. Salim Ali.
He took real pride in designing covers for the books he wrote or helped to bring out, and took great pains to do them artistically and to reflect some aspect which was inside the book. The evolution and the final product of some of these are given.
OTHER DESIGNS
When the Kibble Computer Centre was established in 1986, he designed the logo for it, incorporating the Madras Christian College Emblem with the anchor, cross and the words IN HOC SIGNO, into the picture of a computer. This continues to be the logo of the Department of Computer Science.
Another valuable design and contribution, not known to many, was the design of the Kuthu villakku, used in the college for functions and for the Carol Services in the Bishop Heber Chapel. In 1958, when I was attending an orientation course in Bucknell University for two months, organized for the Smith-Mundt Fulbright scholars, he was visiting and had discussions with the leader of the University Christian Teachers' Association, who donated 100 $, to be used by Gift in any way he liked. On our return to India in 1959, he made several trips to Natchiar Kovil in Thanjavur where original kuthu vilakku was made. Taking great pains to see that the proportions were good, he designed the kuthuvilakku in such a way that the tops were different -- removable tops -- one with the cross, to be used during worship service and the other the normal type to be used for secular occasions.
His involvement and interest in music combined with Arul's musicianship prompted him to design the wedding invitation of Arul with Anna in 1982 in a very unique and remarkable manner. The background of the card was the music with the words of the lyric "Mangalam Chellikka" which is generally sung at the wedding services. He did a translation of this Tamil lyric into English and has signed it as "Arul's Instructor".! I found this manuscript only now and I had never known that he had ever done this. Such was the enormity of the number of things he had done that one can comprehend only a fraction of what he has accomplished.
Colour and black and white pictures taken by him have appeared in Indian magazines and journals and in one international journal as pictures accompanying the articles he wrote.
NATURALIST
He had attended a bird-ringing camp with Dr Salim Ali and was an ardent bird watcher. He has contributed several articles to the college magazine and News-Letter for Bird Watchers.
MUSIC
He was actively and passionately interested and involved in music -- from singing in the Bishop Heber chapel as a student and every week in the evening service at the Anderson Hall (1,2) for over 30 years, organizing mridangam classes for the faculty, encouraging musicians to publish their music, to research related to music and musical instruments.
SPORTS
While at school, he was a hockey and football player and had won several medals. He continued this in college, playing with the students during practices, as President of these clubs in MCC. He used to play tennis regularly and was the President of the Tennis Club for a few years, taking a keen interest in its activities. He even won a silver cup playing doubles with Dr. M.A. Thangaraj, a great player. His love for playing tenniquoit in the evenings, as a student in the Bishop Heber Hall court continued for several years.
ACTING
He had taken part in plays in the hall and acted in a play in Madurai when he was a lecturer in 1953-54.

---
Home | Biodata | Biography | Photo Gallery | Publications | Tributes