Launch of website in memory of Dr. Gift Siromoney, March 21, 2002
I. Invitation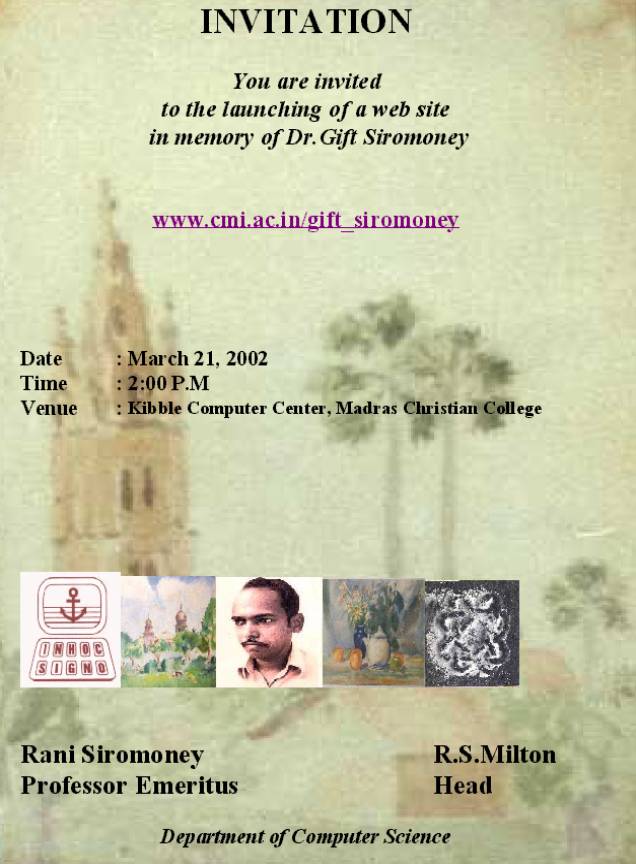 II. Program
| | | |
| --- | --- | --- |
| 1 | Opening prayer | Prof Purushotham Samuel |
| 2 | Welcome | Mr R S Milton |
| 3 | Felicitation | Dr Alexander Mantramurti |
| 5 | Reminiscence | Mr Mithran Devanesen |
| 6 | Song | Prof P A Sathiasatchi |
| 7 | Talk on his work --- 1 | Dr P Dayanandan |
| 8 | Talk on his work --- 2 | Mr Theodore Baskaran |
| 9 | Launching the Web site | Mr Theodore Baskaran to Mrs J P Vijayathilakan |
| 10 | About the Web site | Dr Arul Siromoney |
| 11 | Closing prayer | Prof Winfred Chelliah |
| 12 | Tea | |
IV. Introducing
Prof. Purushotham Samuel was formerly Professor in the Department of Zoology and Co-ordinator of Examinations after his retirement. He was associated with Dr.Gift Siromoney in many ways -- especially in the study of birds. Once he reported from the lab a bird ringed "Inform Moscow" which meant that the bird was a winter visitor from Russia to the Tambaram area.
Prof. P. A. Sathiasatchy -- former Professor of Tamil and great exponent of Carnatic music, bringing Christ to the common people through music and evangelism. Every year, for the Bishop Heber Carol service, he used to sing one Tamil song and train the choir to sing another Tamil song. On some occasions, he was accompanied by Dr. Gift Siromoney on the mridangam.
Mithran Devanesen, son of Dr.Chandran Devanesen, the first Indian principal of the Madras Christian College, whose contributions to the college, the country and the world were innumerable. Mithran had taken a course taught by Dr. Gift Siromoney on Religious Instruction, when he studied PUC. A Campus kid and a lover of the campus, Mithran was a great pal of Dr. Gift Siromoney. Mithran is a Director of Musical and other plays and a well-known figure in the field of art in Chennai.
Dr. P. Dayanandan, Professor and Head, Department of Botany, a close associate of Dr. Gift Siromoney in his academic pursuits -- they shared several common interests and had the same kind of love of enquiry, and curiosity -- again a multi-faceted personality, upholding the traditions of research in MCC.
Theodore Baskeran, a former student of MCC in the late fifties, retired as Chief Post-Master General of Tamilnadu after having traveled all over India, wide spectrum of interests ranging from Archaelogy, Epigraphy to Birds etc., a very popular writer for The Hindu and other magazines and journals.
Mrs. Sheela Vijayathilakan, an exemplary housewife, a great support to her husband, Dr. J.P.Vijayathilakan who was closely associated with Dr. Gift Siromoney in the Department of Statistics. He had served the college in many different ways -- as warden of St. Thomas Hall and so on. He did all the preliminary work for the establishment of MCA in MCC and was a strong support to the Department of Computer Science, in its formative years.
Arul Siromoney son of Dr. Gift Siromoney and closely associated with the Department of Computer Science in its academic work. He is a musician, organist/conductor/choir-master in St. Andrews Kirk, Egmore.

V. Thanking
The focus of the website and this meeting for its launch has been on Dr. Gift Siromoney and his contributions -- his life, his motivating others, his concern for others ...
Now, this is the time to consider and briefly reflect on the contributions made by others -- how he was enabled to achieve so much within this short span of life.
First and foremost, praise and thank God
Then thank all associated with him who made it possible -- the students, the colleagues, the researchers who willingly accepted him for what he was.
We thank all the speakers who accepted to participate in this meeting.
The Roja Muthiah Research Library for scanning all available publications of Dr. Gift Siromoney and accessibility to all of them which made it possible to create the website.
The Chennai Mathematical Institute for hosting the website and
All the contributors who made it possible.
Finally, thank all those who helped to organize this function, the Coordinator and Exam Office, the Estate Office, APRO's and Audio Visual Unit.

---
Home | Biodata | Biography | Photo Gallery | Publications | Tributes