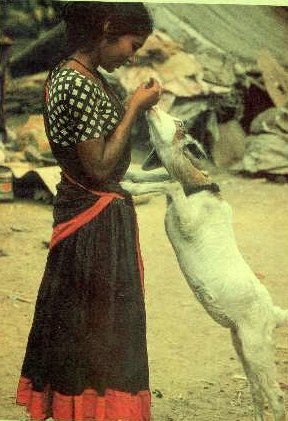 There is no distinct physical characteristic that identifies these people but their dress, language and lifestyle set them apart. The Narikorava women, called kurathis, wear coloured skirts, with pleats. They sport beads, shells and cowls around their necks and carry sling bags. The men who wear just loin clothes and turbans often stain their teeth black with copper sulphate and a paste made from acacia arabica.
Adept in the art of catching animals and birds, Narikoravas can even trap a jackal, considered to be the most cunning of all animals. It is this ability, which gives them their name Narikorava

the jackal people. In order to catch a jackal, the man builds an enclosure made of net, sits inside and mimics the howl of a jackal. When the hapless animal approaches the net to investigate, he clubs it. To trap partridges, which are much sought after for the pot, the Narikoravas use domesticated birds, which act as decoys to catch the wild ones. This is the reason why they are also called Kuruvikaran, or the birdmen. In fact, supplying game birds to town dwellers has been one of their traditional occupations. With the implementation of the Wild Life Protection Act, the Narikoravas had to change their livelihood and they have consequently switched over to making beads and selling knick-knacks.
In the earlier days they resisted any attempt to settle them in one place. If they are nomads, where are they originally from? Other than a short note by Edgar Thurston in 1905, these people have not received any scholarly attention. It was in the early seventies, Dr. Gift Siromoney of the Madras Christian College, with the help of the students in the Statistics Dept. of the College, conducted a series of research projects on the life of these people and published the results of his studies in the form of Monographs*. These projects have helped us to understand them better.
The language of the Narikoravas, Vagriboli, has traces of Marathi, Telugu and Tamil and has been classified as Indo-Aryan. It has no script. Dr. Gift Siromoney, as a part of his research project on the Narikoravas, brought out a primer to help learn this language through Tamil. The following booklets were also brought out by him: Thirukkural, St. Mark's Gospel and St. Luke's Gospel in Vagriboli
The medicinal plants used, and the musical chants of the Narikoravas were studied.
Psychological and IQ tests performed on Narikorava children showed that they were more intelligent than the corresponding neighbouring village children.
From "The Narikoravas:Colourful Nomads of Tamil Nadu"
Text:S.Theodore Baskeran
Pictures: John Isaac
Swagat, February, 1989
Publications
The Narikoravas of Madras City
Gift Siromoney, Parts of this chapter appeared in the Weekly Mail (October 7, 1972)
with the caption "Narikoravas say No Nomadic Life for our children" also in, Studies on Vaagrivala, A Collection of Papers on the Narikorava People of TamilNadu,  Edited and Compiled by J.P.Vijayathilakan, STAT 27/77, February, 1977. READ
Some ceremonies of the Narikoravas
K.R.Rajagopalan, J.P.Vijayathilakan and Gift Siromoney, Chapter 5 in Studies on Vaagrivala, Edited and Compiled by J.P.Vijayathilakan, STAT-27/77, February 1977
Part of this chapter appeared in Folklore (Calcutta), Vol.xiv, No.1, January 1973.
A Tamil translation appeared in Aaraaichi, Vol.3, No.2, October 1972. READ
Medicinal plants used by the people of the Narikorava tribe (Tamil)
Aaraaichi, 3, pp. 354-357, 1973 (with Giles Lal and Livingstone, C.)
Snares used by the Narikorava people
Chapter 2 in Studies on Vaagrivala, Edited and Compiled by J.P.Vijayathilakan
 STAT-27/77, February 1977 Gift Siromoney. READ
Herbal medicines of the Narikoravas
Folklore, (Calcutta) xiv, pp. 363 -366, 1973 (with Giles Lal, D. and Livingstone, C.). READ

---
Home | Biodata | Biography | Photo Gallery | Publications | Tributes